The eerie Creepy Dolls have risen once more to save Halloween 2020 from stay-at-home boredom! 9 new doll contestants from the History Center's museum collection compete to win the October 2020 Creepy Doll Contest. To help fans everywhere participate in the fun, the History Center is adding a Creepy Doll Costume Pageant and Creepy Doll Cocktail Party.
OFFICIAL CREEPY DOLL CONTEST POSTS RUN DAILY ON FACEBOOK AND INSTAGRAM OCTOBER 14-24. Voting ends October 28 at midnight. Cast your vote by clicking "like" on your favorite creepy doll posts. Follow us on social media and don't miss a single ominous artifact!
Facebook tag: @historycenterofolmstedcounty
Instagram: @olmstedhistorycenter
#creepydollcostumepageant
BETTER YET SEE THE DOLLS "LIVE" AT THE HISTORY CENTER AND CAST AN IN-PERSON VOTE BEGINNING OCTOBER 1ST!
Museum open Tuesday – Saturday, 9am – 5pm. Admission $5 adults, $2 children. Admission includes access all museum exhibits, archives, and grounds.
DON'T MISS SEEING THE CREEPY DOLL CONTEST WINNER CROWNED LIVE AT THE VIRTUAL CREEPY DOLL COCKTAIL PARTY.
Live music, spooky cocktails, and an interview with the winning doll live on Halloween Night from 6-8pm! Details at: https://creepydolls.olmstedhistory.com/
---
---
Are YOU the 2020 Creepy Doll?
Find out by entering the Creepy Doll Costume Pageant! Enter the Vault of Vanity at: https://creepydolls.olmstedhistory.com/pageant-info
---
---
GET YOUR OWN CREEPY CUSTOM CREATIONS HERE!
Lots to choose from just click here to order!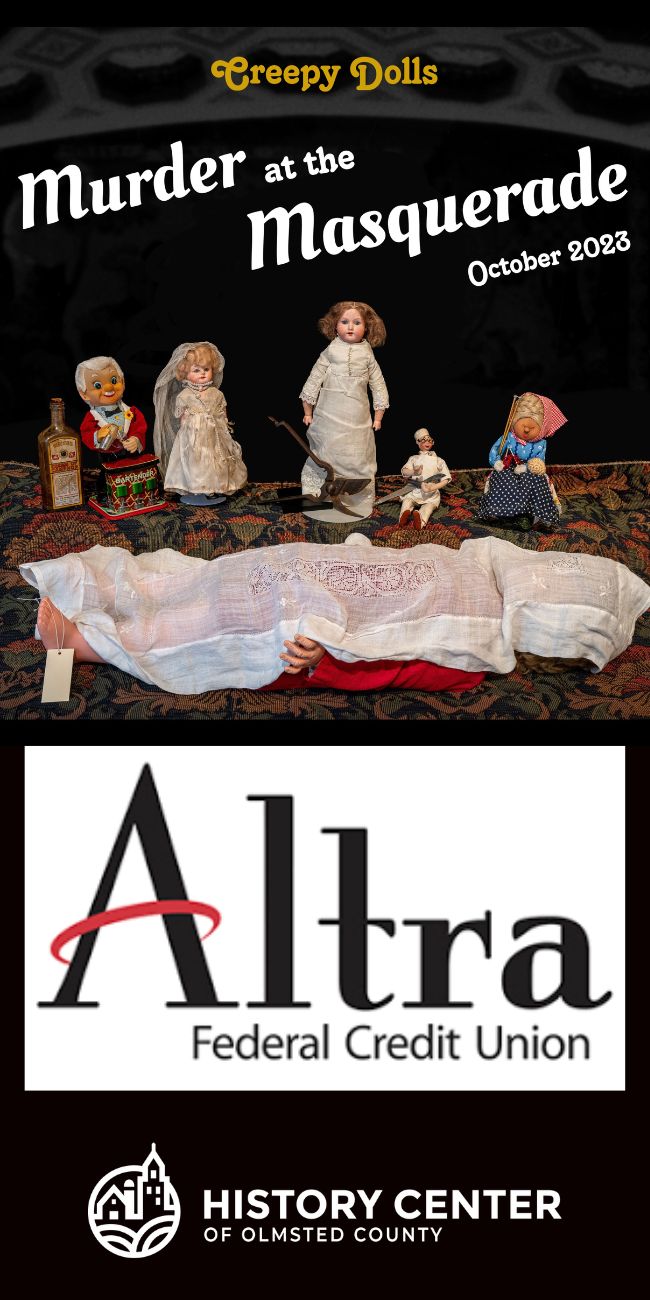 Featured Event
When
Oct 31, 2020 1:00 PM - 3:00 PM
What
Kids will enjoy trick or treating around the History Center and the grounds. FREE
Cost
Free
HOURS
Olmsted History Center
Tuesday – Saturday
9 am to 5pm

Closed All Major Holidays.

On days that inclement weather occurs
the History Center will close consistent with Rochester Public Schools closures.
---
ADMISSION
Adults: $5.00
Children: $2.00
HCOC Members: Free

Phone: 507-282-9447