Germany
On November 11, 1813, in the Kingdom of Württemberg (now the state of Baden-Württemberg in southwestern Germany) Johann George Stoppel and his wife, Magdalena Agatha Spaeth, welcomed the birth of their third son, George Stoppel. George's older brother, Franz Joseph, had been born just two years before on July 14, 1811. As children, they attended common schools and their local Catholic church in Hiltensweiler, near Lake Constance (Bodensee on the map to the right).
At the age of 17, George began learning the cooper trade (the making and repair of casks and barrels) as an apprentice to his uncle, a task that took him three years to complete.
Once we reach our first fundraising goal of $2,000, we can unlock the next step in his journey!
---
Meanwhile, elsewhere
in the world:
1812-1815, the United States and Great Britain are at war once again in what becomes known as the War of 1812
1813, Jane Austen publishes Pride and Prejudice
1814, Napoleon abdicates and is sent into exile to Elba
1815, Mount Tambora in Sumbawa island (part of present day Indonesia) erupts, leading to...
1816, the "Year Without a Summer", where the Northern Hemisphere experiences unusual cold to devastating effect
1818, Mary Shelley publishes Frankenstein
1820, Liberia is founded for freed slaves from the United States
1820, Antarctica is discovered
1824, Beethoven's Ninth Symphony premieres
1826, the internal combustion engine is patented
1831, Charles Darwin begins his journey on the HMS Beagle
1833, slavery is banned throughout the British Empire with the Slavery Abolition Act
This is also a period of independence and revolt with Argentina, Chile, Mexico, Peru, Brazil, Bolivia, and Uruguay all gaining independence and Greater Columbia dissolving to become Colombia, Ecuador, and Venezuela. Russia, Spain, Portugal, Italy, and Greece all undergo revolutions in the 1820s followed in the 1830s with revolutions in France, the United Kingdom of the Netherlands, Poland, and the Ottoman Empire. This is in addition to several wars around the world between countries jockeying for regional power.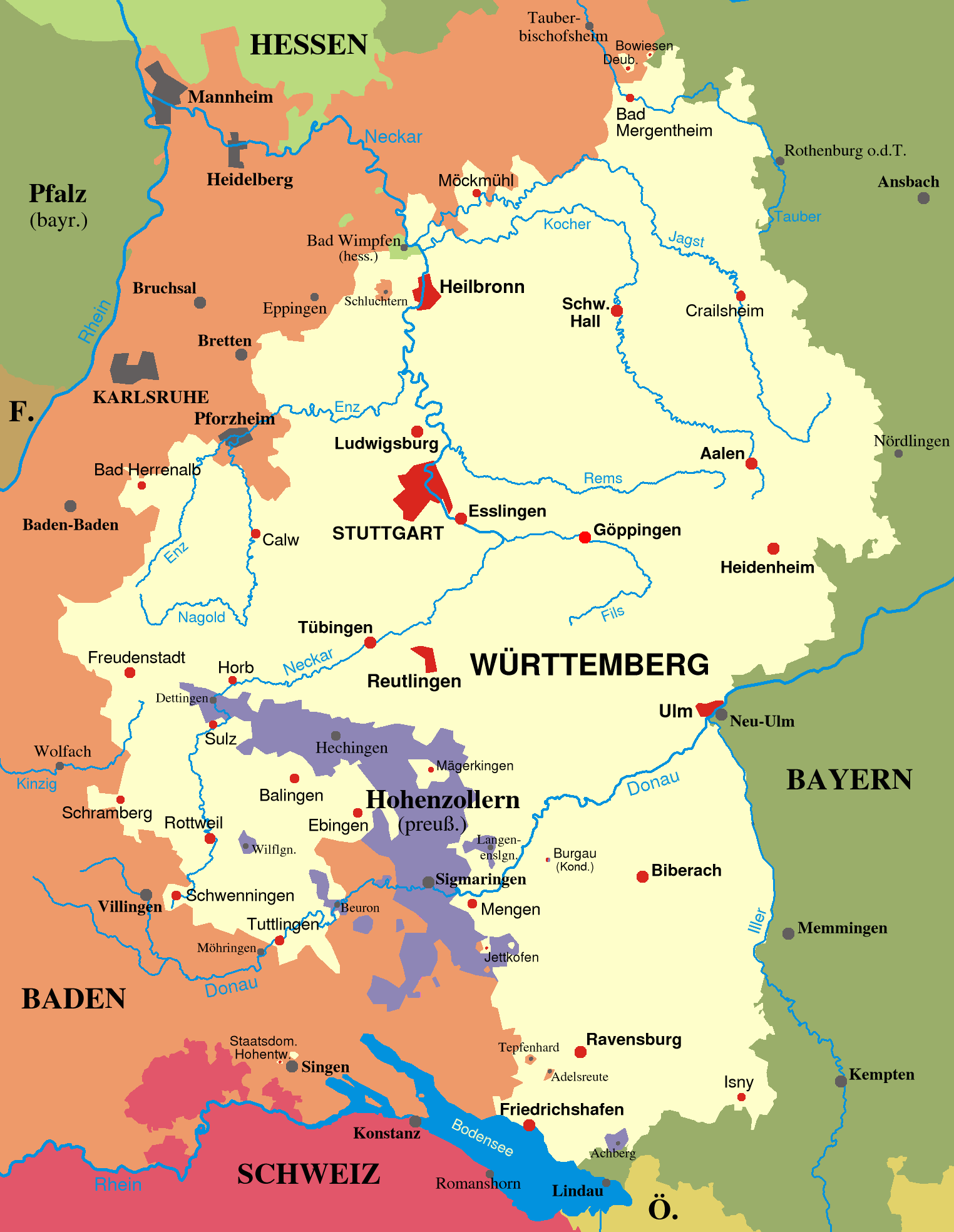 The Kingdom of Württemberg as it existed from the end of the Napoleonic Wars to the end of World War I
Image By Ssch - Own work, CC BY-SA 3.0, https://commons.wikimedia.org/w/index.php?curid=350991

The Stoppel Family church in Hiltensweiler